I'm proud to say that we've finally released and made available the long-awaited book: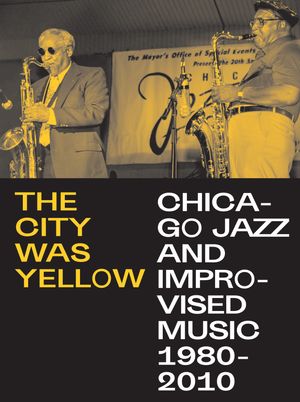 The City Was Yellow: Chicago Jazz and Improvised Music 1980-2010 
An anthology of 53 scores that represent a broad cross-section of Chicago musicians—44 in all--sharing compositions with a wider world and encapsulating an essence of that ineffable, changing Chicago sound over a three-decade period. 
The diverse selection cuts across different scenes and methodologies to reveal a vibrant mosaic of the city's creative scene including artists such as Von Freeman, Fred Anderson, Ari Brown, Nicole Mitchell, Jeff Parker, Matana Roberts, Rob Mazurek, Ken Vandermark, and many others. To celebrate the 50th anniversary of the Jazz Institute of Chicago, proceeds from the book will go to the Institute's Jazz educational programs. 
Physical copies can be purchased through Dusty Groove America, or you can download a PDF version from our website https://www.thecitywasyellow.com/about 
To celebrate the book and the Jazz Institute's 50th anniversary we will convene an all-star ensemble to perform compositions from the book at the 41st Chicago Jazz festival at Pritzker Pavilion. 
The City Was Yellow Ensemble: 
Nicole Mitchell - flute 
Rob Mazurek – piccolo trumpet 
Ari Brown – tenor saxophone 
Geof Bradfield – tenor saxophone & bass clarinet 
Steve Berry - trombone 
Jeff Parker - guitar 
Matt Ulery – bass 
Mike Reed – drums
The 41st Chicago Jazz Festival 
August 29th, 6:30 pm Pritzker Pavilion